Highline High School
Class of 1989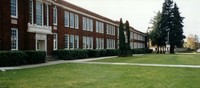 In Memory
Patricia Sullivan (Journalism Teacher)
When Patty was fresh out of the University of Washington, she landed a job at Marineland in Pacific Palisades, California. There are pictures of her swimming and photographing sharks in a tank. She was their Public Relations Director. She was, for a while, a writer for a Hollywood rag magazine and hobnobbed with some of the greats. She was even friends with James Garner.
Pat always remembered fun days in Roslyn, Washington hanging around the "Brick" that Pat inherited which was a family owned tavern used in the TV show Northern Exposure. During the Depression, she and her grandmother ran a University of Washington fraternity house. She wore the clothes that the rich boys left behinds after they went away. Pat loved that.
In Seattle she then began teaching for many years at Highline High School where she inpsired countless students to achieve their best. In retirement Pat moved to Belfair, Mason County to enjoy a full life with activities in her church, TOPS, Twanoh Falls Beach Club and weekly trek to sing with the Rolling Crones in North Seattle. We all miss Pat in our various lives and she will be in the hearts and minds of everyone who knew her.
[Source: Highline Alumni Foundation, 2006 Alumni Soundings]